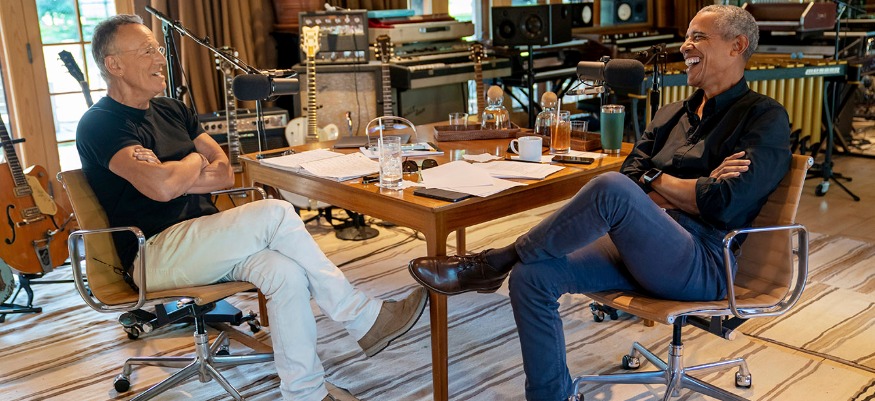 February 24, 2021
Bruce Springsteen and Barack Obama launch a new podcast on Spotify called "Renegades: Born in the USA".
The iconic musician and former president of the United States share stories and views about their lives, their music and their love for America in all the hardships the country has faced.
In the eight episodes of the podcast the two old friends also discuss a wide range of topics, such as race, fatherhood and marriage.
In the first two episodes, titled "Outsiders: An Unlikely Friendship" and "American Skin: Race in the United States" and now available on Spotify, Bruce Springsteen and Barack Obama talk about their unexpected friendship and the issue of race in America.
"It's a personal, in-depth discussion between two friends exploring their past, their beliefs and the country they love - as it was, as it is, and as it should be in order to move forward," Spotify notes, adding that two men "have formed a deep friendship since they first met" in Barack Obama 's 2008 election campaign.
"How did we get here? How could we find our way to an unifying American history? This topic dominated so many of my conversations last year - with Michelle, my daughters and friends. "And one of the friends happened to be Mr. Bruce Springsteen," says Barack Obama in the first episode.
"At first glance, Bruce and I do not have much in common. But over the years, what we have found is that we have a common sensitivity. "For work, for family and for America."
"In our own way, Bruce and I have taken parallel paths trying to understand this country that has given us so much. Trying to record the stories of her people. "We are looking for a way to connect our own individual quest for meaning and truth and community with the wider history of America."
"Renegades: Born in the USA" is the second podcast presented by the production company Higher Ground Productions of Barack and Michelle Obama. It was preceded by the show of the former first lady of the USA.
Watch the trailer of "Renegades: Born in the USA":